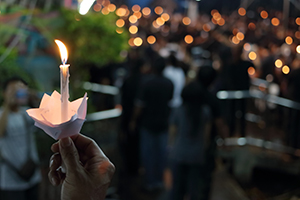 Celebrate a Life
When someone we love dies, we find ourselves confronted with both the grief of our loss and the desire to celebrate a life well lived. While working through our emotional pain, how are we able to create a funeral service that truly celebrates a life? Is it something we should be doing while we are stressed?
The answer is both yes, we can and yes, we should. We'll address the "why we should" later in this article, but first, let's talk about what a celebration of life is and how it is expressed through the funeral service. More and more funeral services are being designed to really honor the loved one who is no longer with us.  Although the pain of our loss is very real. an important part of our own grief process is to acknowledge the life of the person who died and rejoice in the very fact that they lived—and were part of our lives.
One of the best ways to pay tribute to a loved one who has passed is through a thoughtfully created funeral service. Because no two lives are the same, no two funeral services will be the same either. Certainly, there are some common elements to the structure of a funeral service, but the memories that will be shared and the stories told will be unique and special to the person being honored.
Our loved ones had their own set of beliefs, goals, dreams, likes, and accomplishments. They dealt with the trials and tribulations of this life in their own way. Their special personality traits and wonderful life experiences touched many lives and created many memories.
By sharing these memories at a funeral through photos, videos, music, poetry, stories, Scripture readings, and the like, not only brings meaning to the life of the person who died but to the lives of family and friends as well. Everyone in attendance gains a greater understanding of who the person was and how they touched so many lives.
To ensure that a funeral service is a true celebration of life, it's helpful to take the time to recall fond memories, put together appropriate music, photos, and videos, and remember the wonderful moments spent with the one you are honoring. This can be best accomplished when the necessary logistical details of a funeral service, such as obtaining cemetery property, selecting a casket and flowers, and choosing cremation or traditional burial are taken care of ahead of time.
Besides providing a practical means to honor a life, the funeral service benefits those who are left behind as it assists them as they work through their grief. Planning a funeral helps fulfill what grief researchers Kenneth Doka and Terry Martin call the "intuitive" and "instrumental" styles of grief. Those who experience grief intuitively, through strong feelings that are openly shared, as well as those who express grief "instrumentally' by more cognitive and physical means, can do so through the funeral service. Intuitive persons will be more apt to explore and process those feelings beyond the funeral through support groups and close gatherings with friends, while instrumental people will look for ways to do something physical such as help build or create something to pay respect to the deceased, or perhaps have a hand in creating a video, photobook, musical selections, and such for the service.
While the funeral service has changed in how it's presented, its positive effects on those who are left behind remain an important part of how we heal after a loss.