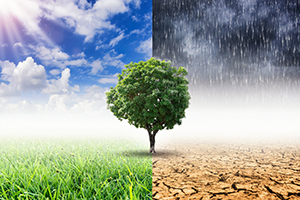 Earth Day 2023
I am grieving for the weather these days. A big part of why I live in and enjoy Los Angeles is that the weather is very nice. It has been mild and allows for a lot of activity and movement that rainy, snowy, and other inclement weather makes difficult. I'm grieving as I adapt to these new weather patterns and climate shifts we are experiencing. A colleague and I stepped outdoors into a warm and bright day recently. It was something that we had not experienced a lot of. He quipped, "It's nice to move back to Los Angeles from the Pacific Northwest." This past winter was unlike anything we have experienced. We had a huge rainstorm about once a week and it was cloudy and cold in between. We set a record for snowfall and it even snowed one day in the LA area.  This is true across the US where some places had much warmer winters than ever before. And the violent weather has brought destruction in flooding and tornadoes.
And these bring an experience of grief for us. The attachment we have to former patterns and expectations has been broken and we are not sure what to expect. If we can grieve these losses, processing the pain of loss they bring we can begin to address some of the deep concerns that these new weather patterns spark within us. Which brings anxiety and can paralyze us, keeping us from responding.
In acknowledging Earth Day 2023 may we recognize the losses that come with these changes, the movement within our communities, and within ourselves as we play catch up to what is happening around us.