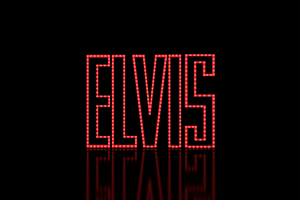 Elvis: Losing a Legend
There have been several events in our generation that have been so culturally significant, that most people who were alive at the time can remember where they were when these events occurred. Events such as the assassinations of President Kennedy, Dr. Martin Luther King, and John Lennon; the time when Neil Armstrong set foot on the moon; 9/11; and for millions of fans of his music, the day Elvis, the King of Rock and Roll, died.
The best-selling solo artist of all time, Elvis Aaron Presley, was one of the most influential and significant icons of the 20th Century. From his humble beginnings in Tupelo, Mississippi, and Memphis, Tennessee, he was one of rock and roll's pioneers and helped break the color barrier in the 50s and 60s, integrating African-American sounds into the mainstream during the transformative time of the Civil Rights era. To this day, he is still an important and popular figure in American entertainment history.
A movie about his life, "Elvis," directed by Baz Luhrmann, was released in 2022 and was well received by the public, the Presley family, and eventually nominated for an Academy Award for best picture of the year. Told through the eyes of his controversial manager, Colonel Tom Parker, it is a film that touches on many aspects of life: family, love, struggle, business, fame, and death.
Two things in particular stuck out to me in the movie that were examples of humanity's response to our immortality and our grief. In a scene that occurred not long before his death, Elvis and Pricilla are seated in a limousine on an airport runway just before he was getting ready to leave for a show. The wear and tear of his lifestyle were destroying him, and she arranged for him to go to rehab after the next show. Promise you'll go, Pricilla asked. His response: "I'm gonna be 40 soon, 'Cilla. Forty. And nobody's gonna remember me. I never did anything lasting. I never made that classic film that I could be proud of."
It is hard to understand how someone as famous as he would even think about not being remembered. But this is a classic example of the memorial impulse. Since the beginning of civilization, there has been a tremendous force exerted on humankind's progress by the universal desire to be remembered after death and to keep the memories alive of those whom we love. The Great Pyramids of Egypt, the Taj Mahal, the Roman tombs on the Appian Way, the great cathedrals of Europe, Westminster Abbey, the Arch of Triumph, and so on are all larger-than-life representations of this need to be remembered. Buildings, parks, and cities named after people, as well as the common cemetery, are other examples.
The other interesting aspect that dealt with the death of Elvis had to do with the reaction of his manager, Colonel Parker. The two had an interesting relationship described in the movie as the "Showman" (Elvis) and the "Snowman" (Parker.) The name Snowman came from "snow job," the phrase the Colonel, a long-time promoter, used to describe how he would create sensationalism from his shows that the viewers would gladly pay handsomely for their experiences. Elvis was part musician and a big part showman, as his provocative moves and colorful costumes created a persona that swept the nation. However, their relationship was also rocky, with accusations of abuse and financial fleecing made by Presley's camp.
Near the end, Elvis was a caricature of his former self: overweight, slurring his words during performances, and barely able to get on and off stage. When he died on August 16, 1977, many blamed the Colonel for leading the King into a lifestyle that included rampant drug abuse.  In the movie, the Colonel responds to the accusations:
"What killed my boy? The doctors say it was his heart. Others, the pills. Some say it was me. No. I'll tell you what killed him. It was love. His love for you."
Was his response an example of survivor's guilt? Survivors' guilt is a way that some people react to a situation where someone else experiences loss, but they themselves did not. It is not limited to the loss of life. While it was true that the Colonel felt the personal loss of his business partner, he also lost his main source of income and identity. With fingers pointing at him for being the reason Elvis died, his reaction was certainly defensive, quite possibly masking his guilt.
All in all, "Elvis" is a well-written, well-paced film that is worth viewing. But don't take my word for it. Pricilla Presley had this to say about the movie on a Facebook post: "For those curious about the film ELVIS, Baz Luhrmann, the director, provided a private screening for me and Jerry Schilling (Elvis' close friend) at Warner studios. This story is about Elvis' and Colonel Parker's relationship. It is a true story told brilliantly and creatively that only Baz, in his unique artistic way, could have delivered. Austin Butler, who played Elvis is outstanding. There were two sides to Colonel, Jerry and I witnessed both. The story, as we all know, does not have a happy ending. But I think you will understand a little bit more of Elvis' journey, penned by a director who put his heart and soul and many hours into this film."
"Elvis Presley's death deprives our country of a part of itself. He was unique and irreplaceable. Using the styles of white country and black rhythm and blues, permanently changed the face of American popular culture." – President Jimmy Carter
References
https://www.townandcountrymag.com/leisure/a39876080/priscilla-presley-reaction-baz-luhrmann-elvis/
https://www.facebook.com/ms.priscilla.presley/posts/532201418276175