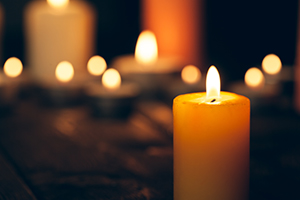 Grief and the Holidays
Between November 1 and January 1, there are more than three dozen holidays celebrated around the world. Some of the most popular and important holidays occur during this time, including Dia de los Muertos, Thanksgiving, Hanukkah, Bodhi Day, Christmas, Kwanzaa, and New Year. It's why this time of the year is referred to as the "holiday season."
It's a time when family and friends gather to share holiday meals, exchange gifts, play games, watch movies, and enjoy each other's company. Many lifelong traditions grow through these exchanges and become a steady and stable part of our lives for years.  And then someone we love passes away and everything changes.
After the loss of a loved one, the holidays change.  The moments of being together and enjoying good times and creating new memories can comes to a halt. The feelings of happiness, thanksgiving, and sharing may be replaced by loss, emptiness, and sadness.
The sights, scents, and sounds of the season stir up memories, often wonderful memories, of past holidays which can also serve as painful reminders of our loss. It is particularly difficult after the first year to see others celebrating and enjoying traditions while we are still grieving our loss.
There are no simple ways or means to remove the hurt that you are feeling due to your loss, but there are some things you can do to help you work through the process:
Be sure to get plenty of exercise and rest.
Set reasonable boundaries with others and realize that pain is part of grieving.
Focus on what you can control, and always remember to be gentle with yourself; there is no need to rush grief. In fact, you can't.
Being tolerant and compassionate with yourself, you will continue to heal.
To help you during your time of loss, we invite you to attend one of our meaningful Lights of Remembrance ceremonies to honor your loved ones. Join us on Wednesday, November 30 at 7 pm at Forest Lawn's Cathedral City, Covina Hills, Coachella Valley, Glendale, Hollywood Hills, and Long Beach locations as we sing holiday songs, hear a brief inspirational message, and light a candle in memory of a family member or friend. Reservations are required. Click HERE to make reservations. If you are unable to attend, there will be a virtual presentation on Tuesday, Dec. 6 at 7 pm on Facebook at www.facebook.com/forestlawn.
For more information on the Lights of Remembrance, please visit https://forestlawn.com/about-us/grief-resources/. Or call 855-433-8363 with any questions.