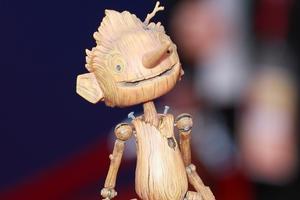 Guillermo del Toro's Pinocchio
Guillermo del Toro's Pinocchio won the Oscar for Best Animated Feature yesterday evening. Its movie-making is astonishing, and I was totally captivated by the featurette after the movie on how they made this movie. The puppetry is amazing and as the viewer, you get captured by the sets, the acting, and the story.
Geppetto tells Pinocchio as they talk together about the mistreatment the city folks give Pinocchio, "People are sometimes afraid of things they don't know." This is true of grief. Society is often afraid of the powerful experience that is grief. That is why we are "encouraged" and often burdened by well-meaning people telling us to move on in grief or urging us to think only happy thoughts. Pinocchio is a good movie to watch with your children to help them enter into some of the elements of grief. It will help you start conversations and provide opportunities to learn through the actions of the characters as well as the family discussions they spawn.
At one moment in the movie, Geppetto offers a book that belonged to his son. It is a special gift and you know how important this is to Geppetto through the softness of his voice. In this gesture, we see another aspect of grief, legacy building. The book is a tangible, physical reminder of his son. We know it has been cherished because he has kept it for many years. Now he is giving that to Pinocchio. This is an extension for Geppetto of his son Carlo to Pinocchio. Such actions are quite common among us in grief. Important objects that how memories or in some manner the "essence" of our person who died, become treasures. And when we find someone to whom we want to extend our person's legacy into, we will give it. It is a way of providing longevity and some sense of permanence moving forward.
Another important interaction is between Pinocchio and Death. They have a conversation about love and the people we love. Death says to Pinocchio, "You never know how long you have until they're gone." It is a truth that we human beings carry with us at all times. It is an unconscious thought but is one we know and are aware of. Anyone who has had a person die suddenly has a strong witness to this reality. Death requires Pinocchio to make choices about how he will live and use his life.
Pinocchio learns to value those around him, Geppetto, Cricket, and Spazzatura, rather than his wants, desires, and wishes. This powerful message is one that we all would do well to learn and discuss openly. It is a lesson that leads toward a life that is lived without regret. For it keeps love at the forefront of our daily living.