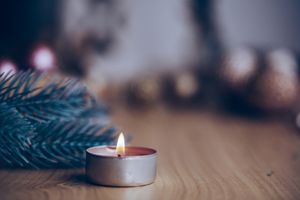 I'll Be Home for Christmas
Listen to any radio station, shop at any store, or watch any holiday movies or shows on TV between Thanksgiving and Christmas, and you're bound to hear a rendition of the classic song, "I'll Be Home for Christmas." It's one of those standards that we associate with the holidays, and it has warm and wonderful lyrics:
I'm dreaming tonight of a place I love
Even more than I usually do
And although I know it's a long road back
I promise you
I'll be home for Christmas
You can count on me
Please have snow and mistletoe
And presents by the tree
Christmas eve will find you
Where the love light gleams
I'll be home for Christmas
If only in my dreams.
Written and recorded in 1943 to pay tribute to American soldiers who were serving overseas during World War II and longing to be home, it was performed by Bing Crosby and became a huge hit.
The song touched the hearts of Americans, soldiers, and civilians alike. In the midst of World War II, it earned Crosby his fifth gold record and became the most requested song at U.S.O. Christmas shows. The GI magazine Yank said Crosby "accomplished more for military morale than anyone else of that era."
However, decades later, for those who have lost a loved one, this beautiful tune can stir up feelings of pain, sadness, and loneliness. For those individuals, there will be no homecoming and no more Christmases together with snow and mistletoe. All that is left are precious memories.
Deb Kosmer, a Bereavement Support Coordinator for Affinity Visiting Nurses Hospice in Wisconsin and a public speaker, wrote a poem that captured her personal reflection of hearing that song while dealing with her own grief. She lost her father in 1986 to a massive heart attack. Just three years later, she experienced the accidental deaths of her fourteen-year-old son and her thirty-one-year-old sister. Deb experienced grief firsthand and put her feelings on paper with this prose:
I hear the words
on the radio and in my mind.
I see your face,
your eyes, smiling at me.
I am filled
with incredible sadness
knowing that
You won't be home for Christmas.
Not this year,
Not next year,
Not anymore years ever again,
no matter how many times
the song plays.
Everywhere people are getting ready
to celebrate the season,
while I am left to mourn your death
and wonder if it will ever
feel like Christmas again
if I will ever feel happy again
without you home for Christmas.
This year I decorate the tree
for others, not for me
I unwrap each ornament
reaching into the box one more time
I pull out a small piece of paper
I unfold it and see a heart that you drew,
the words "I love you" written underneath.
Though tears start to fall,
a hint of a smile touches my face
as I realize you really are
home for Christmas.
Powerful words from someone who knows that her holidays will never be the same again. Maybe you can relate to her feelings. If you are working through your own personal grief over the holidays, it will not be an easy time. There are, however, some steps you may take to help you through the process of healing and give you hope.
Carry the memory of your loved one into your new holiday traditions.
Place an ornament on your Christmas tree or light a candle during your holiday commemoration in their honor.
Write a note to your loved one.
Talk about them when you gather with family and friends.
Visit your family memorial and remember the good times of holidays past.
Take care of yourself physically, emotionally, and spiritually. There will be down times and self-care is of the utmost importance.
Remember that you are not alone. Rely on family and close friends when you need them.
While it is true that the holidays will never be the same, it is also true that you will continue to grow in your healing over time, and that your loved one will always be a part of your holidays in your heart and memories. Death cannot erase your love for them.