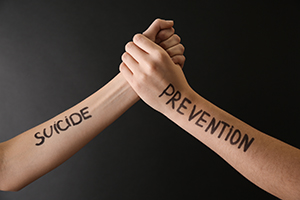 A Journey Through Grief – Suicide Prevention Month
If anything "good" has come from the COVID-19 pandemic, it has been that topics such as mental health and suicide are no longer taboo subjects to talk about. There is a growing awareness of how important mental health is, how it is not something to be ignored, and more importantly when it comes to suicide, how it can be prevented.
According to the American Foundation for Suicide Prevention (AFSP), suicide is a leading cause of death in the United States, with 45,979 deaths in 2020. Attempted suicides or those who contemplate it bring the number even higher. It's estimated that in 2020, 12.2 million American adults seriously thought about suicide, 3.2 million planned to attempt suicide, and 1.2 million made an actual attempt.  It affects people of all ages, ethnicities, beliefs, identifications, and cultures.
The impacts of suicide are many and far-reaching. Those who attempt to take their lives and survive may have long-term physical and mental issues. The family, friends, and co-workers of someone who dies by suicide may experience depression, anger, shock, guilt, and even experience their own suicidal thoughts.  Also, there is a financial impact of suicide on society itself. In 2019, suicide and nonfatal self-harm cost the nation nearly $490 billion in medical expenses, work loss, and quality of life costs.
However, the good news is this: suicide is preventable. With September being Suicide Awareness Month and September 10 specifically named World Suicide Prevention Awareness Day, it's an opportunity to share information on how to identify if a person is suicidal and what can be done to help them.
Knowing the key warning signs is important.  People who are considering suicide often show signs of depression, irritability, anxiety, anger, shame, or loss of interest in things they used to enjoy.  They often talk about feeling hopeless, not having a reason to live, being a burden to others, feeling trapped or in unbearable pain, and killing themselves. They also may display some significant changes in behavior such as turning to drugs or alcohol, isolating from friends, sleeping too much or too little, giving away prized possession, searching online for ways to end their lives, or acting very aggressively.
If you are struggling with suicidal thoughts or know someone who is, the 988 Suicide and Crisis Lifeline is available for crisis support.  You may contact them by calling the three-digit hotline at 988, texting to 988, or chatting online at 988lifeline.org. A trained crisis counselor will be available 24 hours a day, seven days a week, 365 days a year. It is a free and confidential service that can provide lifesaving help.
Also, on Tuesday, September 27, Journeys Through Grief will host a free online viewing of the award-winning film, "The S Word." It tells the story of a suicide attempt survivor who is on a mission to find fellow survivors and document their stories of unguarded courage, insight, pain, and humor. It skillfully weaves stories of survivors from a cross-section of America including LGBT, African American, and Asian American communities, who candidly share their profoundly emotional stories of trauma, mental health challenges, survival, and advocacy.  If you would like to join us in watching this important film, please email jstevenson@forestlawn.com you will be sent a link for viewing. Spots are limited, so register today.