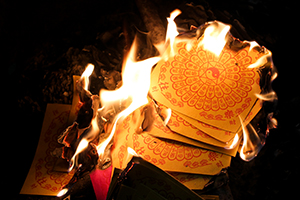 Walk Out What You Can't Talk Out: The Value of Ritual Action
In his book, Do Funerals Matter, author and widely regarded authority on the role of social support in death, dying, and grief William G. Hoy makes a strong case for the value of rituals in how we process our grief.  He uses the phrase, "walk out what you can't talk out," which he developed over his years of research on how people have responded to loss over the centuries.
Throughout history, humans have responded to loss by taking action and doing something beyond just expressing words of support. This is true across religious and cultural lines. Rituals such as bathing or washing the deceased, digging an interment space by hand, escorting the body to the final resting place, performing music, kneeling in reverence, wailing, placing flowers on a casket, gathering at a house of worship, walking or driving in a procession, or preparing food for a post-funeral gathering are all physical actions that are a natural part of how we express our loss.
Why is it that we have this innate desire to act when we lose a loved one? According to Hoy, one simple reason is that people genuinely do want to help.  However, there is also a deeper need and desire to be active that has to do with what we face emotionally after a loss. We may endure sleepless nights, anxiety, fear, and a general sense of being out of control. Being active and moving helps bring a sense of normalcy back to our lives.  Research also suggests that funeral rituals may help reduce psychological stress, at least temporarily.
Hoy also cites in his book research that shows that rituals "serve as guides in close relationships, especially during significant life events and stressful periods. The magical quality of rituals is embedded in their capacity to make transitions manageable. Simply knowing which rituals lay ahead during a day, a year, or lifetime quells uncertainty and tempers feelings of anxiety."
Whatever the ritual may be, it plays a vital role in the grieving process. The funeral service, in many ways, is the centerpiece of all rituals and continues to be critical in helping us say goodbye to our loved ones individually and as a community so the healing process may begin. They are key in assisting people to "walk out what they can't talk out."